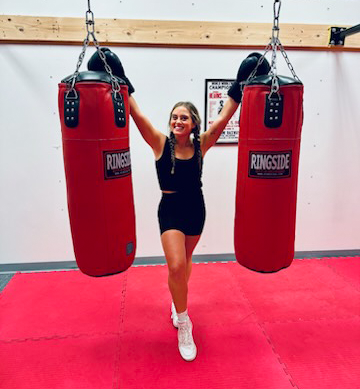 Women's Boxing Classes
Ages: 13 & Up
Ladies Only Boxing Fitness and Fun
If you can move, you can TRAIN! Women's fitness boxing classes are designed with women in mind. Boxing classes are aimed toward increasing strength, stamina, endurance, power, and core strength. Women burn calories, build strength and have fun at the same time!
Boxing Classes for Women
Finally, a boxing class just for women! Our women's boxing classes are designed to focus developing core muscles and helping women get fit. Our safe and well-lit gym in Westminster Mall is the perfect environment for learning to box.
Saturday Boxing Classes
Start the weekend right! Classes are high-intensity interval training sessions. Each class starts with a 4-minute warm-up. After warm-up, the class entails six 4-minute rounds of boxing on the bag and one 4-minute core round to end it off.
Achieve Peak Fitness
Our High-Intensity Interval Training classes are boxing classes with rounds. Each round is designed for your optimal performance within 4 minutes. This is when "work at your own intensity level" kicks in. Over time, the rounds will build up and boxers will progress to more advanced levels of training.
FREQUENTLY ASKED QUESTIONS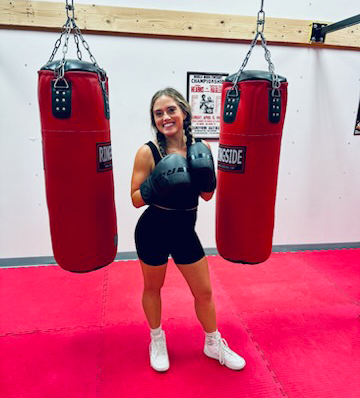 Meet Your Women's Boxing Coach
KayLynn!
The minimum age is 13 years old.
Classes are held on Saturdays at 10:00 AM
The classes last one hour. It is not mandatory to train for the full hour if you are not able to.
Yes. Women's boxing is non-contact fitness. You will receive the benefits of learning how to box without having to spar or compete in the ring.
Absolutely! Women's boxing classes are non-contact boxing classes. We encourage a "train-at-your-intensity-level" workout philosophy.
The workout intensity level is the highest level you are most comfortable working out at. We train you at YOUR level. We do not expect or teach anyone to train at another person's level. If necessary, we modify any part of a workout you aren't able perform and tailor a program that fits you.
At minimum, you will need boxing gloves and hand wraps. The equipment you need to start training is available in our online boxing equipment store. We offer a variety of discount bundles to suit your training style. You can visit our store and order your fitness training gear and have it delivered or pick up at the gym.
There is no required term to sign up for. Classes are $35 each. We do offer multiple program options for flexibility. Sign up for 12 months, 18 months, or month-to-month. We also offer "Punch Cards". No matter which program you join, you become a member of Mad House Boxing Club.
Need more info?
Sign up and check your inbox!